Father's day is the perfect time to celebrate the love of every father, grandfather, stepfather, and foster father. Every child wants to show its warm feelings through Happy Father's Day Quotes, personalized father's day gifts, and cards with messages for dad.
When Is Fathers Day 2021
Sunday, 20 June
Here are some of the best father's day quotes you need to check right away. These are definitely the best happy father's day quotes for all dads.
50+ Father's Day Quotes | Best Dad Quotes

We have compiled this list of 50+ sweet and short father's day quotes including sweet, cute, and caring quotes.
"One father is more than a hundred schoolmasters." — George Herbert
"When my father didn't have my hand, he had my back." — Linda Poindexter
"The greatest mark of a father is how he treats his children when no one is looking." —Dan Pearce
"My father gave me my dreams. Thanks to him, I could see a future." — Liza Minnelli
"She did not stand alone, but what stood behind her, the most potent moral force in her life, was the love of her father." —Harper Lee
"There will always be a few people who have the courage to love what is untamed inside us. One of those men is my father." —Alison Lohman
"No man I ever met was my father's equal, and I never loved any other man as much." — Hedy Lamarr
"Dads are most ordinary men turned by love into heroes, adventurers, story-tellers, and singers of song." – Pam Brown
"Sometimes the poorest man leaves his children the richest inheritance." – Ruth E. Renkel
Make This Father's Day Extra Mesmerising With These Unique Father's Day Gifts for Every Type of Dad
Personalized Wall Art Dad and Daughter with frame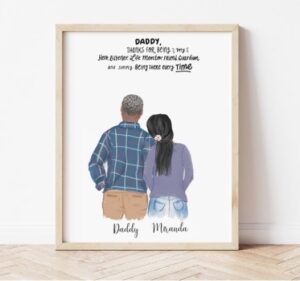 Fathers Day custom personalized Chocolate Box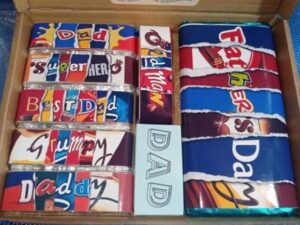 Funny Father's Day Quotes
"You don't have to deserve your mother's love. You have to deserve your father's. He's more particular." —Robert Frost
"I talk and talk and talk, and I haven't taught people in 50 years what my father taught by example in one week." 

—Mario Cuomo

"A father's words are like a thermostat that sets the temperature in the house." —Paul Lewis
"Remember what Dad really wants is a nap. Really." – Dave Barry
Being a dad isn't just about eating a huge bag of gummy bears as your wife gives birth. It means being comfortable with the word 'hero.' – Ryan Reynolds
The older I get, the smarter my father seems to get. – Tim Russert
There should be a children's song: 'If you're happy and you know it, keep it to yourself and let your dad sleep. – Jim Gaffigan
"My daughter got me a 'World's Best Dad' mug. So we know she's sarcastic." —Bob Odenkirk
"We wondered why when a child laughed, he belonged to Daddy, and when he had a sagging diaper that smelled like a landfill, 'He wants his mother.'" —Erma Bumbeck
Father's Day Quotes From Daughter
"They don't make men like my daddy anymore." – Loretta Lynn
"My dad tells me to make decisions out of love and not fear. It's okay to do something and not know that you're going to nail it and execute it with full, perfect preparedness." – Rashida Jones
"My dad believed in me, even when I didn't. He always knew I could do this." – Taylor Swift
"Happy Father's Day to all the great Dads out there! But of course, mostly to my daddy who has been the best father, anyone can ask for!" – Eva Longoria
"We were inseparable. It was one of those amazing relationships. You know, he was the guy. He was like, 'I'm always here for you. I am never going down." – Gwyneth Paltrow
"My mother gave me my drive, but my father gave me my dreams. Thanks to him, I could see a future." – Liza Minella
When I was young I thought you were too strict, but as I grew older I realized and understood your strict was actually your love and protection. – Catherine Pulsifer
Father's Day Inspirational Quotes
One father is more than a hundred schoolmasters. – George Herbert
"Any man can be a father, but it takes someone special to be a Dad." – Anne Geddes
"A father is neither an anchor to hold us back nor a sail to take us there, but a guiding light whose love shows us the way." – Unknown
"It's only when you grow up and step back from him—or leave him for your own home—it's only then that you can measure his greatness and fully appreciate it." – Margaret Truman
Make This Father's Day Extra Mesmerising With These Unique Father's Day Gifts for Every Type of Dad
Personalized Wall Art Dad and Daughter with frame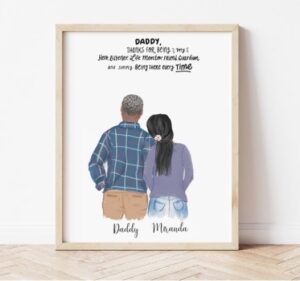 Fathers Day custom personalized Chocolate Box