Kids need a lot of nutrients in the growing years. Fruits are one of the best foods to provide those required nutrients to the kids. Fruits contain Vitamin C and dietary fiber, which ensures the good health of the kids.
Here is the Recipe of Healthy Fruit Snack For Toddlers and Kids.
Firstly. let's Discuss the ingredients and its importance for the kids' growth.
Ingredients
Apple – one medium-sized, cubed
Pear – one medium-sized, cubed
Dry Apricots  – 3-4 pieces
Black Raisins – 12-15 pieces
Figs – 1 OR 2
Why Should You Add Fruits To Kids' Diet
Fruits and vegetables play an important role in the process of the ideal growth of the kids. Adding fruits ensures the healthy future of the kids.
Fruits have low-fat content, hence keeps the kids away from childhood obesity.
Fruits Contain Vitamin A that helps to have good eyesight in kids.
Bananas and Apricots have high potassium content that helps in maintaining blood pressure.
Apple contains Vitamin A, Protein and Dietary Fiber which helps to maintain overall health.
Pears contain more fiber than an apple and contains a good amount of Vitamin C and Vitamin K.
Adding carrots to this healthy bowl would add up the benefits of Vitamin A.
Cucumber is rich in antioxidants. And keeps the kids hydrated.
Check 15 Protein Rich Vegetarian Foods For The Kids
Importance Of Dry Fruits
Dry Apricots are as good as the fresh apricots and contain good amount of potassium.
Black Raisins are known to be good to relieve constipation in kids and adults.
Black Raisins are rich in iron that helps to maintain hemoglobin.
Dry figs maintain good eyesight and hemoglobin. Prevents Anemia and boosts immunity.
Recipe of Healthy Fruit Snack For Toddlers And Kids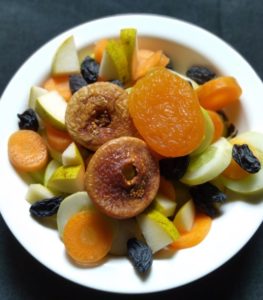 Cut the fruits ie. apple and pear into small cubes.

Dice the carrot and the cucumber.

Add chopped figs and apricots OR you can add them as a whole.

Add black raisins.

Mix them all and serve the bowl of health and happiness to your kids.

You can garnish this health bowl with a little honey.

You can pierce the fruits and veggies with a toothpick and offer finger fruits to the toddlers and kids.

Lastly, you can add a variety of fruits from pineapple to guava in this healthy fruits and veggie bowl or skewer.
Nutrition Reference – LiveScience
Related Posts :
Immunity Boosting Peanut Jaggery Ladoo Recipe
1 Healthy Batter 3 Yummy Recipes For School Lunch Box
7 Health Benefits Of Almonds For Kids
5 Best Immunity Booster Foods For Kids