Kids' health and nutrition is the priority of every mom. We add a lot of good foods to kids' diet and still feel that something is lacking. Even if you are adding all the veggies to their diet, neglecting dry fruits or nuts like almonds, walnuts, pistachios etc. can keep your kids away from getting 100% nutrients from foods. Hence adding all kinds of foods to their diet is essential. And the health benefits of almonds are so many, that you can never afford to skip this delicious nut from your child's diet.
Adding good quality almonds to their food regularly will make them healthier and brainier too. Give them this dry fruit packed with nutrients and see them grow very well.
7 Health Benefits Of Almonds For Kids:
Here are some of the health benefits of almonds for which you need to give them to your kids every day:
1. Almonds Build Immunity In Kids
Eating 3-4 soaked almonds every morning ensures building immunity in toddlers and kids. This tasty nut is known as king of nuts and provides extra nutrition to the kids when it is soaked overnight. It is recommended to pair up the almonds with soaked raisins for balanced nutrients. Numerous health benefits of raisins and almonds work pretty well for your child's health.
2. Almonds Improve Bone Health
Almonds are a great source of calcium, phosphorous, and minerals that strengthen bones of the kids. Including almonds to their diet will keep the tooth decay and other diseases at a bay.
3. Almonds Help To Keep Hair And Skin Healthy
As almonds are rich source of vitamin E, eating almonds regularly helps to keep skin and hair healthy. Also a great source of Omega 3 and Omega 6 fatty acids, almonds promote healthy hair growth in kids and adults.
4. Almonds Keep Heart Diseases Away
Present days, many of the kids are facing the issues of child obesity and the diseases related to heart. Eating almonds regularly lowers the possibilities of heart diseases in toddlers and kids.
5. Almonds Boosts Energy Levels
Growing kids need extra nutrients to keep them active while having a multi-tasking life. They have to attend school, sports practice, and other activity classes. Their days are packed with so many activities that by end of the day, they may feel low on energy. Eating soaked almonds regularly and adding almond milk or dry fruit milk to their diet every day will boost up their energy levels and keep them active round the clock.
Almonds are rich in fiber. So eating them regularly adds necessary fiber amount in kids' diet. You may also use sweet almond oil to cure constipation. Put a few drops in milk OR breast milk (for babies above 7 months age). Give 2-3 spoonfuls of almond oil diluted milk before going to the bed. It will give relief from constipation by next morning.
7. Almonds Help In Boosting Memory
The age old remedy of eating soaked almonds every day boosts memory in toddlers, kids and adults too. The other way to utilize almonds to boost up the memory is to add 1 teaspoon sweet almond oil in a cup of milk and have it before going to bed. This remedy not only sharpens memory but also nourishes hair and skin health.
Key Benefits of Eating Almonds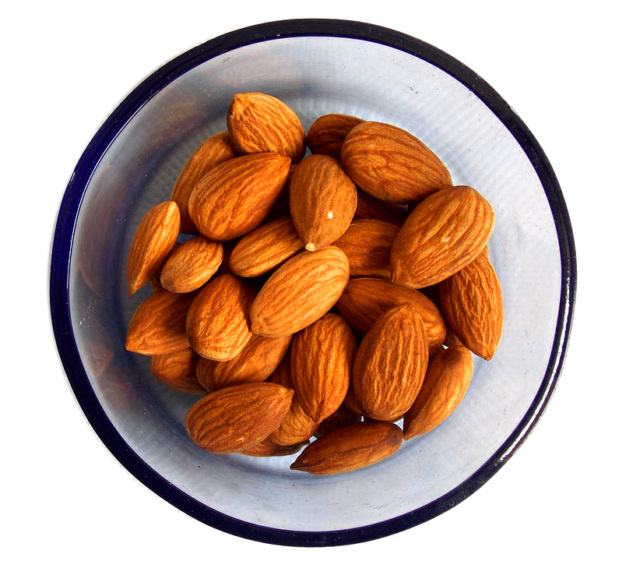 Helps in lowering bad cholesterol

Gives protection against diabetes

Enhances brain development

Helps in digestion & boosts metabolism

Improves skin and hair health

Strengthens teeth & bones

Enhances immunity

Diminishes inflammation

Prevents anemia

Keeps hearth healthy
Also Read Best Immunity Booster Foods For Toddlers & Kids
Please Note – The health benefits of almonds are never ending, if you eat them moderately. Anything in excess can be toxic. Hence there are several side effects of eating almonds. Please consider your child's health history before adding almonds to his/her diet.
Related Posts
5 Best Immunity Booster Foods For Kids
15 Best Vegetarian Protein Sources For Kids
3 Yummy Recipes With 1 Healthy Batter – Kids Tiffin Recipes
Kids' Nutrition – Healthy After School Snack For Kids