Benefits Of Bananas For Babies – Banana, the golden yellow fruit is an amazing food for babies, kids, and adults too. Being available throughout the year, this humble fruit is available in every household due to its health benefits and economical prices.
Many of us have grown up eating this delicious fruit. And most of the babies get this fruit as their first food. There are numerous benefits of bananas for babies and kids.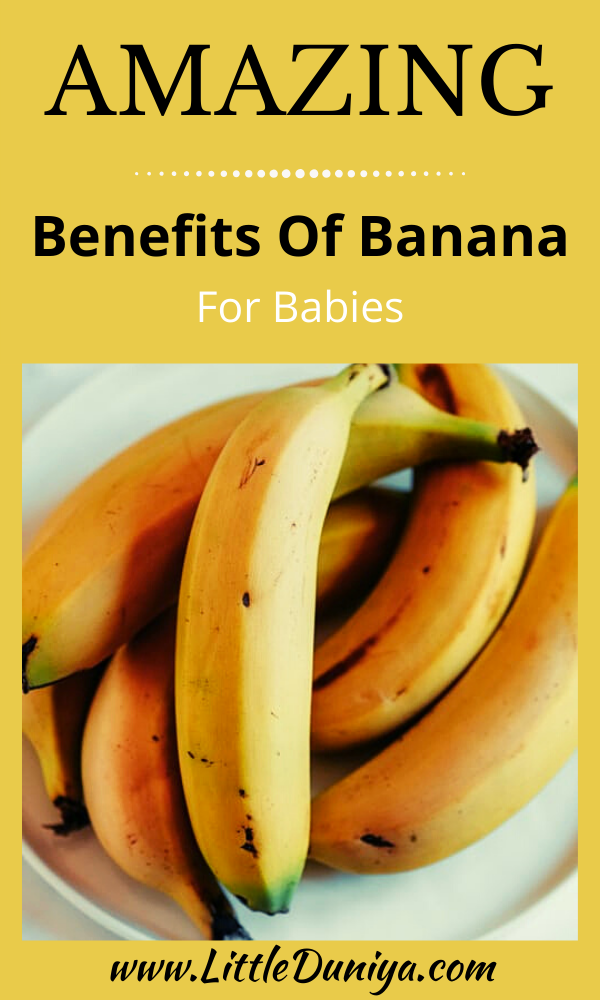 Many first time moms ask "Can I give banana to my 6 month old?". Yes, this is a very common question asked my many moms. And the answer to this question is, yes. Bananas are one of the best first foods for 6 months old babies.
10 Amazing Benefits Of Bananas For Babies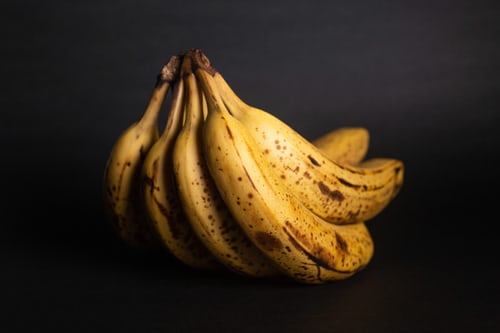 1. Easy To Digest
Bananas are easy to digest hence, it is an ideal fruit to be offered as the first food for the baby. This fruit has a high fiber amount and it helps to improve digestion in babies and kids.
2. Haven Of Nutrients
Bananas contain a lot of nutrients! They are a rich source of calcium, iron, folate, manganese, potassium, etc. Adding bananas to your kids' diet provides them many required nutrients for the growing age.
3. Improves Eyesight
Bananas contain Vitamin A. Eating one banana every day helps to improve eyesight in kids.
4. Rich Source of Iron
Bananas are a rich source of iron. Regular consumption of bananas helps to prevent anemia in babies and kids.
5. Gives Energy Instantly
Banana is one of the best foods for the people involved in physical activities like sports. Banana boosts energy quickly. Adding it to your baby's diet is highly recommended by pediatricians too.
6. Relieves Constipation in Babies And Kids
Banana has high amount of fiber and aids digestion in babies and kids. If your baby is constipated for a long time, start giving her mashed banana baby food every day. It helps in relieving constipation in babies and toddlers.
7. Makes Bones Strong
Banana is a rich source of calcium, regularly adding bananas to the baby's diet helps her bones to become strong and grow well.
8. Amazing Weight Gaining Food For Babies And Toddlers
Worried over the low weight of your baby? Do not worry at all. Bananas are known to be a superfood to gain weight in babies, toddlers, and kids. Add at least half banana to baby food every day and see the changes in the baby's weight chart.
9. Incredible Brain Food For Babies And Toddlers
A Baby's brain develops faster during the first two years of her age. Banana is popular brain food for babies, toddlers, and kids. Adding bananas to the baby's diet will make her brain function very well and you will have a sharper and brighter child.
When and How to Introduce Bananas To The Baby?
You can introduce bananas to your baby after 6 months of her age. It is considered as one of the best first foods for babies.
You can mash ¼ banana with2-3 teaspoons of breast milk and make a banana puree. Keep the consistency a bit watery initially and gradually you can move to a thicker paste of banana. After 12 months of baby's age, you can mash the banana with some honey and milk to add extra nourishment to the mashed banana for baby.
Related Posts:
Benefits Of Apricots For Babies
15 Safest And Best Baby Shampoo In India
Best Baby Wipes In India (Safe Baby Wipes Brands)
Best Immunity Booster Foods For Toddlers And Kids
How To Relieve Constipation In Babies And Kids