Who doesn't like to eat those juicy and delicious apricots? Fresh or dried apricots, both of them taste delightful. You might be enjoying this juicy delectable food as an adult, but at the same time you may wonder "Can I Give Apricot To My Baby"?
Apricots are good not only for babies but also for kids and adults. Adding fresh or dry apricots in your diet regularly will add extra health benefits of this sweet and sour delicacy. Dried apricot is also a very good alternative for chocolates and candies.
Being a mom, I am always trying to offer healthy and wholesome food to my daughter. 
Whenever your child craves for a chocolate, you can offer a piece or two of dried apricots and you don't need to worry about their health at all. And in case you too are craving for some sugary sweet, switch to this natural sweet and satisfy your cravings quickly.
Health Benefits of Apricot For Babies
Apricots help in relieving constipation in babies and kids
It is considered as one of the best foods to boost immunity.
Keeps baby's skin healthy and happy
Rich in iron, prevents anemia in babies and kids
Apricots contain Vitamin A which helps in improving baby's eyesight
Maintains bone health
Keeps heart healthy
Fresh apricots have a lot of water content hence they prevent dehydration
Eating apricots regularly improves digestion of babies and kids
Can I Give Apricot To My Baby?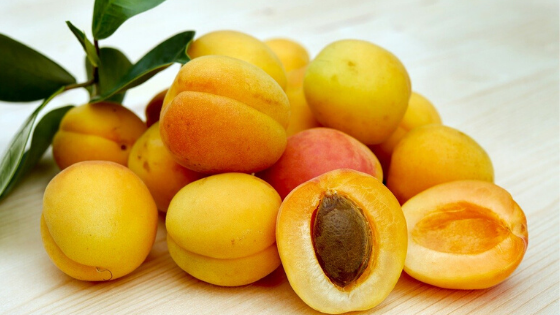 After seeing all these health benefits of apricots, you must have come to the conclusion that you can definitely give apricots to your baby. Adding a tiny piece of fresh or dried apricot to other fruit purees like apple puree or pear puree can be extremely beneficial for the baby's growth.
You can start giving apricots as first foods along with other fruits like banana, apple and pears. Slowly you can increase the quantity of apricots in the other fruits puree when you are sure that apricots are not giving any side effects to your baby.
As you increase the quantity of apricots month by month, you can even change the texture from smooth puree to small chunks of fruits. Kids will love the taste of a standalone apricot (fresh) and later on you can offer small chunks of dried apricots too.
This way baby will develop taste and will get used to the different textures.
Precautions while introducing apricots to the baby
When you start giving apricot puree to your baby, make sure you start with one teaspoon and try giving little extra for next two days. If baby does not show any symptoms of reactions or side effects for those three days, it is safe to continue giving apricots to the baby.
You must wash the apricots before giving it to baby. It is advised to remove the peel to avoid the pesticides used on the fruits.
Dried apricots are mostly dyed with sulphur dioxide to make it look dark orange. This chemical can be toxic for baby's consumption. Hence you must soak the dried apricots in warm water for an hour before adding to the baby food.
Do not store the fruit puree in the refrigerator, always try to make fresh puree for better results on baby's health.
Fresh apricots are always better than dried ones as they are not processed and are natural in all manners.
Once you go through the pros and cons of giving apricots to your baby, you will be able to decide if you can give apricot to your baby. Always try to be vigilant towards baby food and the result will be happy and healthy baby of yours.
Related Posts:
15 Safest And Best Baby Shampoo In India
Best Baby Wipes In India (Safe Baby Wipes Brands)
Best Immunity Booster Foods For Toddlers And Kids
How To Relieve Constipation In Babies And Kids